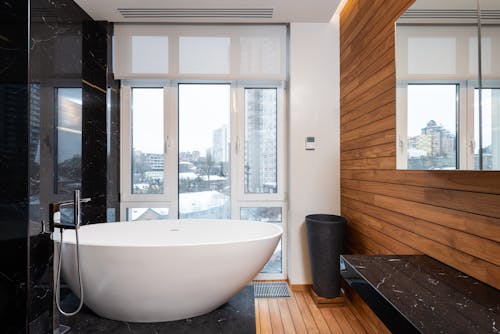 If we have enough space, it is worth thinking about typical bathroom furniture. Its appearance is suitable for both classic and modern interiors. Cabinets are finished with natural wood in light or dark colors, but other variations can be selected. Consider the existing furniture when you are doing bathroom remodeling.
When choosing bathroom furniture, several very important factors should be taken into account that will allow you to create a room that meets your needs and expectations: both functional and visual. Fashion for projects ordered for individual clients in professional design bureaus has a very good effect. New bathrooms reflect your character and passion.
Hanging pedestals
Hanging cabinets are also a good solution: from the simplest "pharmacy" type to designs with semi-circular transparent or frosted doors. You can hang them in almost every bathroom, and the absence of traditional feet makes it easier to keep your floor clean. Pull-out cabinets are especially useful for storing towels or cleaning supplies. The sloped structure can accommodate laundry waiting to be washed if the bathroom also has a washing machine. Instead of traditional cabinets, you can also use wicker baskets, wooden crates, or even color-matched cardboard boxes.
Wardrobes with built-in mirror
A bathroom that provides a sense of comfort, as well as an aesthetic space that is responsible for relaxation, requires the creation of an appropriate atmosphere and arrangement of functional areas, taking into account the type of fixtures, lighting, and other equipment (such as furniture) suitable for the needs of the household.
To give the space a more modern touch, use a large mirror or cabinets with reflective fronts. Use glass elements that add a lot of light. When choosing a shower stall, choose a minimalist glass door. For a bathroom to look beautiful, it also needs to be modern and adapted to the character of the space.
Bathroom shelves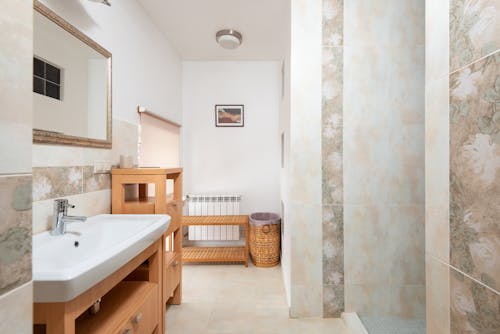 Not all bathroom accessories need to be stored in closed cabinets. Some everyday cosmetics should be easily accessible. The shelf can be mounted in different places:
built into the wall and illuminated;

glass or wood under the mirror;

next to or under the sink;

above the bathroom and in many other places in the room.
An interesting idea is the open washbasin shelf, which is easy to keep clean. The shelf can also be a sink countertop, where there is enough space for all the necessary accessories. However, it should be remembered that the top must be made of waterproof material and well sealed at the junction with the washbasin. The same rules apply to the shelves next to the bathtub or shower. If you have a bathroom with a low wall that divides the toilet, you can also use it as a shelf.
Regardless of what type of storage furniture you choose, remember that everything in the bathroom should have its place. There must be order in a room that is associated with cleanliness.